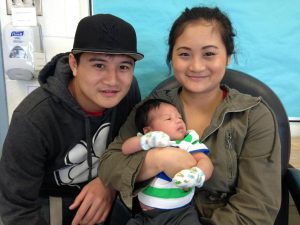 The most important part of Reeda's story is that despite every obstacle, despite every odd and challenge, she rose above everything with an inspiring calm and determination. When I first met Reeda, she was new to Canada. Her culture is Karen (pronounced Ker-in) and you may remember documentaries and news stories about her people when they were being persecuted in Burma. The specifics of what happened to Reeda and her family is her story to tell, but generally, the Burmese army had a mandate to 'rid' the country of ethnic minorities, especially the Karen. Students who are old enough to remember have told me stories of having to flee from their peaceful thatch-roof huts in the mountains when word spread that the army was coming. Often villages were burned and many didn't survive. Those who fled faced days of unimaginable stress, walking through jungle, hoping not to be found by the army or step on a landmine. People were often walking with elderly or small children and many families were split up. The walk would have taken countless days until they reached the Thailand and crossed the border to live in refugee camps.
Before coming to Canada, Reeda spent most of her life in a refugee camp. It wasn't easy, but she and her Karen classmates also speak of incredible beauty. Memories of swimming, climbing trees and eating numerous varieties of bananas, mangos and papayas. Of course, the Thai army and government did not recognize them as citizens and while the children played, the parents worried about being harassed by the Thai guards, what they would eat and what their futures would bring.
When an opportunity arose to come to Canada, Reeda's family took it. It meant leaving behind their home and loved ones, particularly elderly grandparents, but, of course, parents often make difficult decisions so that their children will have a better future. I always marvel at how there is an assumption that coming to Canada after being in a refugee camp means the end of worries, a new beginning and an easier life. It's true; it is a new beginning and in some ways life is easier, but the difficulties and often the disappointment and stress that follows those difficulties should not be underestimated. Imagine having such optimism, such images of a new country, only to land here and realize how hard every day life can be. To miss your home and feel dependent and lonely. To not speak the language means not having access; to small things such as asking for assistance in a grocery store or larger things like succeeding in school, getting a job or explaining what is wrong to a doctor. You feel isolated because not only do you not know people, you don't know the customs or social rules and you don't have the words to make those first steps. You come from somewhere warm and suddenly have to deal with harsh winters when you have never seen snow. You don't know the food or how to cook it properly. Your family has to pay
back the flights from Thailand to the government of Canada, but finding work; especially well-paying work, is beyond challenging. You have to learn to drive and somehow get a car, when
you have never lived in a place with cars or seen traffic lights.
Despite it all, and there are far more challenges than I can write about for this brief story, Reeda stayed positive. She remained grateful, put her head down and did what she had to do to support her family and build a future for herself. She came to school every day and studied English until she became fluent over time. She and other Karen people built a community of support and worked hard to make lives for themselves in a new country. Gradually, I watched Reeda grow from a nervous girl who spoke little English, to a confident, independent teenager who became a
leader amongst other students who had stories like her own. Other students look up to her and respect her for what she has accomplished. I sometimes wonder how I would have coped in her
situation; whether I would be resilient and strong or become depressed, frustrated and give up. The hard work that goes into everything she has accomplished is more than most of us can
imagine.
In the last year, she married and became pregnant with her first child while still in high school. For some, this would be a reason to quit. Reeda had some difficult days feeling emotionally and physically exhausted, but she did not quit. There were some who thought her new role as mother did not require a high school diploma, but she knew that she wanted options and was not ready to give up the path she had started on. She managed her time, figured it out and, as she always has, remained determined.
On June 25 Reeda Mae, the young girl who came here from a Thai refugee camp with a million odds stacked against her, will walk up on the stage and receive her high school diploma. It is
incredible to imagine how far she's come from where she started. In the audience will be her family, friends, husband and her beautiful baby boy, Scott. I hope the thunderous applause rings
in her ears as she walks on the stage and fills her heart so that she feels every struggle, every minute of hard work was worth it. I hope it encourages her to keep moving forward and defying
whatever odds try to stand in her way.